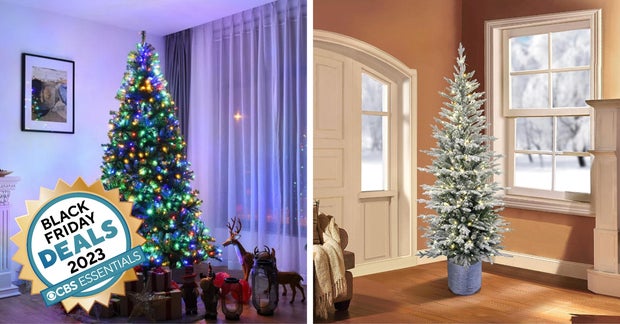 Black Friday is here and so are the Christmas tree deals. No, you're not seeing things in a post-turkey tryptophan haze. Black Friday 2023 is rich with Christmas tree deals -- it's not too late to buy.
Our gift to you this holiday season is finding terrific Black Friday deals that keep more money in your pocket. These Christmas trees on sale for Black Friday 2023 are the perfect start.
The best Black Friday Christmas tree deals 2023
While you've been busy getting into the holiday spirit, we've had our eyes on the prize -- the prize being the best Black Friday Christmas tree deals that 2023 has to offer. We found Black Friday deals on Christmas trees that will turn your living room into the best light show in the neighborhood. Take a look at the best deals on Christmas trees from Amazon and Walmart, including Christmas trees for smaller spaces.
7.5' Aspen Fir artificial pre-lit Christmas tree with clear lights: $221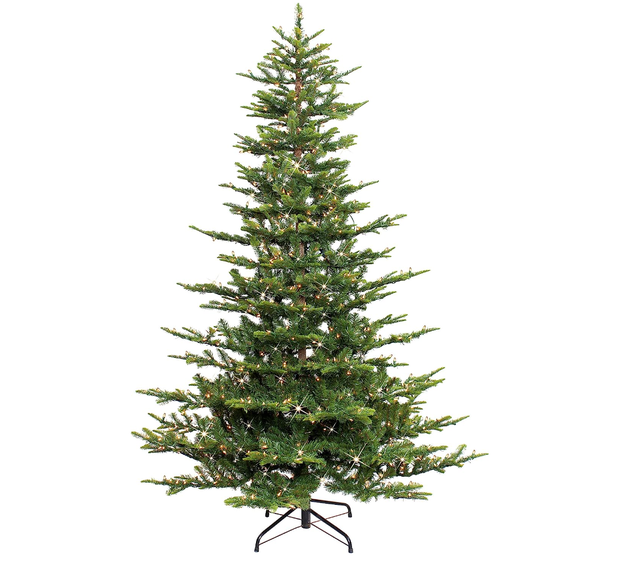 This gorgeous 7.5-foot tree features lifelike needles designed to replicate the beauty of a real pine Christmas tree. This tree is constructed from flame-retardant and non-allergenic materials to keep your home safe all season. This tree is made to be easily assembled and taken down and comes with its own sturdy metal base.
This pre-lit Christmas tree is rated 4.3 stars at Amazon. "The perfect tree," says one verified reviewer. "So beautiful and bright but also easy to assemble. It only took us 20 minutes to put together and fluff."
Save over 50% on this pre-lit tree at Amazon. It's on sale for Black Friday for $221 (reduced from $448).
---
7.5' pre-lit Benton Pine Christmas tree with color-changing LEDs: $78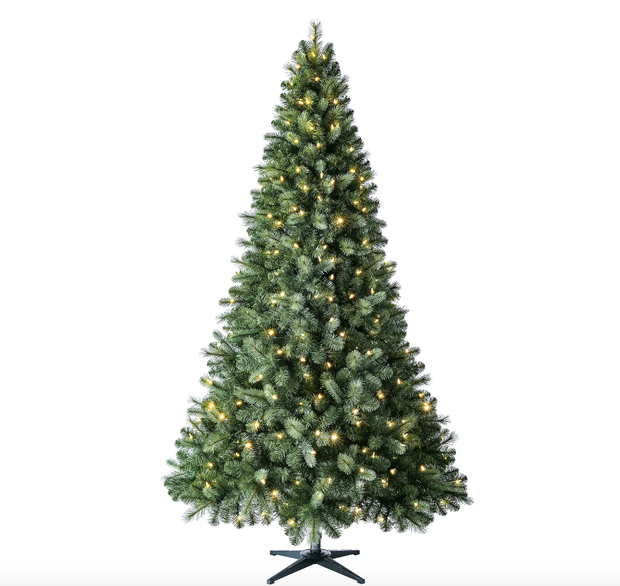 This 7.5-foot artificial pre-lit Black Friday Christmas tree comes with color-changing LED lights sure to keep your home festive throughout the holiday season. The 1,279 branch tips are supported with a sturdy metal stand. This tree offers a quick set up feature to make assembly easy.
Walmart reviewers rate the tree 4.3 stars. Says one reviewer: "This tree is WAY more than I expected, especially for the price. It is absolutely gorgeous! It goes together easy, just take your time and fluff and it will be beautiful."
This Black Friday Christmas tree deal will be available at the Walmart website starting Wednesday, Nov. 22 at 3 p.m. ET., and in stores starting Friday, Nov. 24. Walmart+ members can shop this Walmart Black Friday deal three hours early, starting at 12 p.m ET Wednesday.
---
9' National Tree Company full Dunhill Fir Christmas tree: Save 50%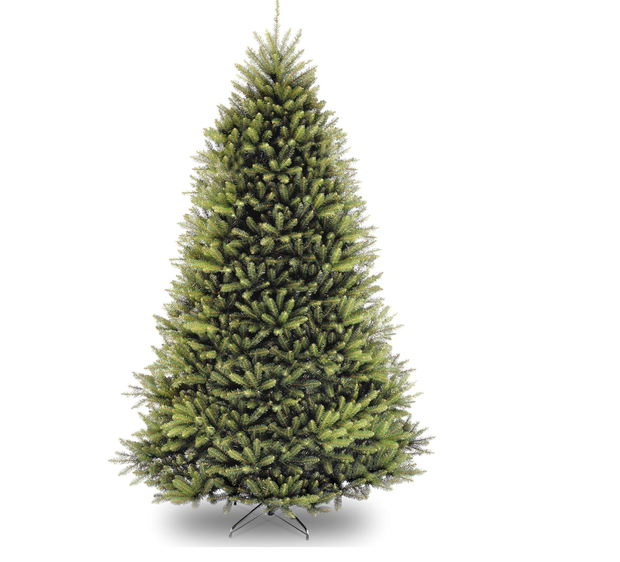 This impressive Christmas tree stands 9 feet tall with a 66 inch base diameter. It's a full-looking tree sure to become the centerpiece of your holiday decor, ideal for large room with tall ceilings. The realistic looking branches were carefully constructed to be as lifelike as possible.The branches are hinged and drop into the base for easy assembly. This tree is constructed with sturdy, hypo-allergenic and fire-resistant materials. Note that it does not come pre-lit.
"I'm very happy with the appearance of this tree," says one Amazon reviewer. "The sturdiness and the price point was probably less than what I would have paid for a real tree of similar height and fullness."
You can get this Christmas tree for half off this Black Friday at Amazon. Regularly priced at $580, get it for just $298 while supplies last.
---
4' National Tree Company pre-lit white Christmas tree: $20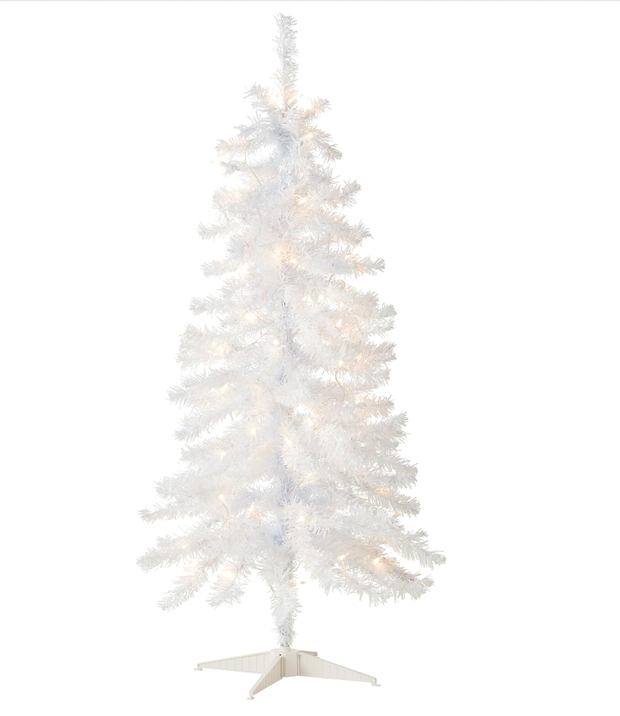 This tree by National Tree Company is a No. 1 Amazon best seller. And it's on sale for Black Friday.
Even if your winter temperatures never dip below 70 degrees, this lovely 4-foot tree from National Tree Company ensures you'll have a white Christmas. This tree features hundreds of branches designed to look and feel realistic with gorgeous white lights which adorn the tree.
This tree includes a durable metal base and is made from sturdy, high quality materials and hypo-allergenic, fire-resistant needles.
"The lights are very pretty and the tree has a little blue tint to it which I love," says one Amazon reviewer about this 4.4-star rated tree. "It gives off the perfect amount of light at nighttime!"
Save 56% on this Christmas tree for Black Friday. It's just $20, reduced from $45.
---
42" Sharper Image ornament tree: $112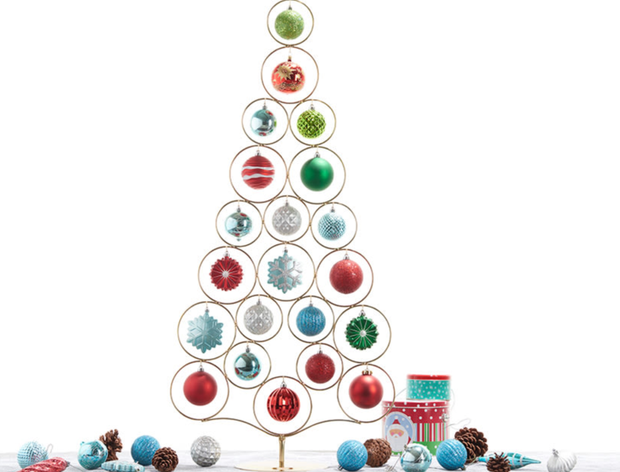 If you're looking for a different take on Christmas trees, take a look at this Black Friday deal from Sharper Image.
The Ornament Tree doesn't require assembly and doesn't take up much space, measuring just 42 inches tall. It offers 21 spaces and hooks to display your favorite ornaments. Use this as a holiday decor centerpiece -- it makes a standout buffet table decoration.
The Ornament Tree is on sale for Black Friday for $112 with code BLACK (reduced from $140).
---
8' pre-lit Christmas tree with 750 LEDs: $200
This 8-foot artificial Christmas tree features 750 LED lights that present five different colors and 11 different patterns, turning your living room into the best Christmas light show in town. The dense PVC needles create a realistic, fresh-cut look that doesn't require the maintenance of a real Christmas tree. A sturdy metal base is included.
Walmart reviewers rate this Christmas tree 4.4 stars. "I thought it was going to be a hassle when I opened the box," says one reviewer. "And it wasn't! It was 3 pieces and the stand. It took me a little over an hour just because all the little branches had to be picked and opened up. But when I was done my toddlers were wowed with it!"
Originally $399, this Christmas tree is on sale now at Walmart for $200.
---
3' National Tree Company pre-lit 'Feel Real' mini Christmas tree: $58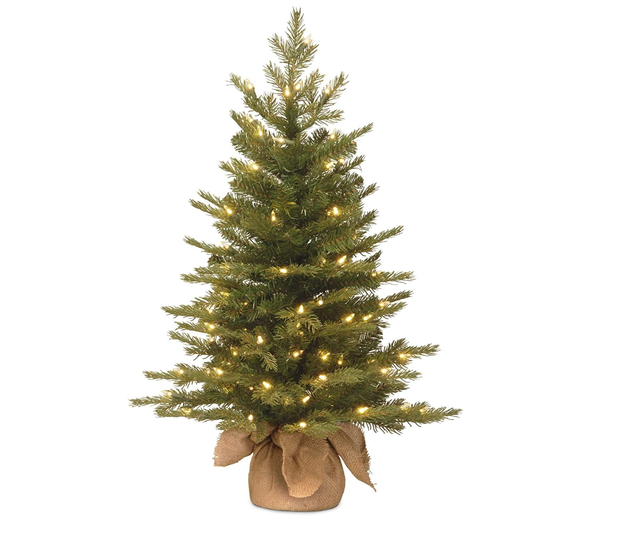 Standing 3 foot tall with featuring a textured burlap base, this artificial Nordic Spruce comes with 50 white lights. This tree is constructed with high quality materials, with hypo-allergenic, fire-resistant needles.
This small tree is a great option for kids bedrooms, offices, and even small apartments that just don't have space for a larger Christmas tree.
Get big Black Friday savings on this mini Christmas tree at Amazon. It's priced at just $58 (reduced from $100).
---
Related Content from CBS Essentials